Kemppi Minarc Evo 140 VRD
$1,359.00
Outstanding welding performance is no overstatement. Every element of Minarc Evo 140 is designed to meet the needs of professional welders on the move. Where size, weight and welding quality are concerned, there is no equal.
Ideal for site use, you can use Minarc Evo 140 from mains or generator power supplies, even with extra long supply cables. Minarc Evo is easy to carry, so you can normally take everything you need in one journey.
Large voltage reserves and automatic arc force control provide excellent arc stability in all welding positions and for a wide range of electrode types, making sure you get quality welding results every time.
The large and clear meter display makes accurate current setting simple and easy, and precise lift TIG ignition ensures high quality DC TIG welding. Connect Minarc Evo's remote control option and you can adjust welding parameters at distance during welding, for the ultimate convenience and weld pool control.
Features: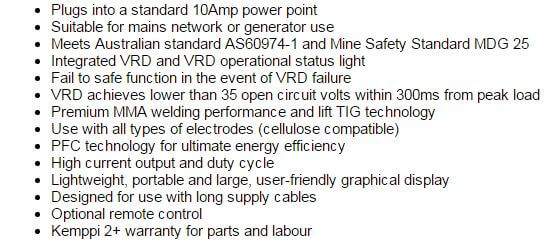 Specifications:
Connection voltage:
Rated power at max. current:

35 % ED MMA: 140 A/4.5 kVA
35 % ED TIG: 150 A/3.2 kVA

Supply current:

28 % ED I1max: 19.7 A
100 % ED I1eff: 10.0 A

Connection cable:

H07RN-F: 3G1.5 (1.5 mm2, 3 m)

Fuse type C:

16A: 140A ED 35%
10A: 140A ED 28%

Output 40°C:

35 % ED MMA: 140 A/25.6 V
100 % ED MMA: 100 A/24.0 V
35 % ED TIG: 150 A/16.0
100 % ED TIG: 110 A/14.4 V

Welding range

MMA: 10 A/15 V…140 A/37 V
TIG: 10 A/1 V…150 A/36 V

No-load voltage; peak: 13 V/VRD (90 V no VRD)
Idle power: 17 W
Voltage steps: stepless
Power factor at 100% ED: 0.99
Effi ciency at 100% ED: MMA – 82 %
Stick electrodes (diametre): 1.5…3.25 mm (some 4 mm)
External dimensions LxWxH:

height with handle: 361x139x267 mm
Weight without connection cable: 5.4 kg
with connection cable: 5.85 kg

Temperature class: B (130°C)
EMC class: A
Degree of protection: IP23S
Operating temperature range: -20…+40 °C
Storage temperature range: -40…+60 °C
Standards: IEC 60974-1, IEC 60974-10, IEC 61000-3-12
In stock
Only logged in customers who have purchased this product may leave a review.